Overview
The Achilles tendon is the large cord like structure on the back of the leg just above the heel. It is the largest tendon in the body and has a tremendous amount of force transmitted through it during walking, running and jumping activities. The Achilles tendon is prone to injury, including rupture during periods of increased stress and activity. Common activities causing injury include running, basketball, baseball, football, soccer, volleyball and tennis. These activities require jumping and pushing forces that are possible due to the strength of the calf musculature and the ability of the Achilles tendon to endure this stress. Men from the ages of 30-50 are the most commonly injured during weekend athletic activities.
Causes
The tendon is susceptible to injury and can rupture during vigorous activities such as running and jumping. Rupture can also occur as a result of gradual wear. After becoming chronically weakened, it can rupture during non-stress activities like walking.
Symptoms
Patients with an Achilles tendon rupture will often complain of a sudden snap in the back of the leg. The pain is often intense. With a complete rupture, the individual will only be ambulate with a limp. Most people will not be able to climb stairs, run, or stand on their toes. Swelling around the calf may occur. Patients may often have had a sudden increase in exercise or intensity of activity. Some patients may have had recent corticosteroid injections or use of fluoroquinolone antibiotics. Some athletes may have had a prior injury to the tendon.
Diagnosis
During the physical exam, your doctor will inspect your lower leg for tenderness and swelling. In many cases, doctors can feel a gap in your tendon if a complete rupture has occurred. The doctor may also ask you to kneel on a chair or lie on your stomach with your feet hanging over the end of the exam table. He or she may then squeeze your calf muscle to see if your foot will automatically flex. If it doesn't, you probably have ruptured your Achilles tendon. If there's a question about the extent of your Achilles tendon injury, whether it's completely or only partially ruptured, your doctor may order a magnetic resonance imaging (MRI) scan. This painless procedure uses radio waves and a strong magnetic field to create a computerized image of the tissues of your body.
Non Surgical Treatment
Nonsurgical treatment involves extended casting, special braces, orthotics, and physical therapy. Avoids the normal complications and expenses of surgery. Some studies show the outcome is similar to surgery in regard to strength and function. There is risk of an over-lengthened tendon with inadequate tension. Extended immobilization can lead to more muscle weakness. Nonsurgical treatment has a higher incidence of re-rupture than surgical repair. Nonsurgical treatment is often used for nonathletes or for those with a general low level of physical activity who would not benefit from surgery. The elderly and those with complicating medical conditions should also consider conservative nonsurgical treatment.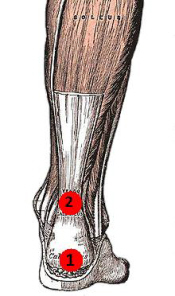 Surgical Treatment
In general, Achilles tendon repair surgery has a much higher success rate and lower incidences of re-rupture than non-surgical methods of treatment. It is preferred by the nation?s leading athletes as the best course of action, allowing them to return to previous activity and performance levels at a much faster rate, with a lower chance or re-injury and less potential muscle loss.